The Back Office Solution
We are THE Back Office Solution for community association management companies!
TECHNOLOGY + PROCESS AUTOMATION + TEAM OF EXPERTS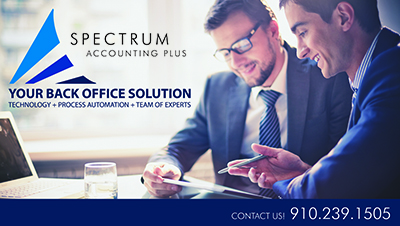 CORE PRODUCTS:
Accounts Payable | Accounts Receivable | Financial Production
PLUS Additional Back Office Services
Mail Room Processing
Homeowner Call Center
Accounts Payable Lockbox
Resales Processing
Community Web Sites Set Up
Marketing Services
Information Technology Services
Collections
Request Information
After serving as a leader in our industry since1991, we discovered that offering our perfected back office services could save Community Association Management companies a great deal of money. From this discovery, our new division, Spectrum Accounting Plus, was created. Let us take care of your back office operations so you can focus your resources and services toward managing your communities, business development and serving your board members.
CONTACT US! 910.239.1505